LE THEMIS

10 rue Saint-Jacques
An historic address with all the comforts of today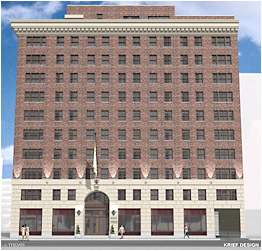 Montreal, January 30, 2004—Built in 1927, the eleven-story Édifice Thémis at 10 rue Saint-Jacques once proudly dominated Old Montreal's cityscape as a towering skyscraper. Today, the heritage building at the corner of boulevard Saint-Laurent is just as proud to welcome forty-five owners into its luxurious, brightly lit, and cozy condominiums. All the comforts of today combined with the historic cachet of yesteryear are sure to delight the owners who will take possession of their prestigious new homes by late 2004.
This highly sought-after location only steps from Cité du multimédia, Montreal's finest restaurants, and the city's most popular cultural venues and festival sites has already won over a number of well-known European screen actors, directors, and producers. They were immediately charmed by the harmonious design and use of such noble materials as stone, marble, brass, and wood. To top it all off, the New York–style interiors and Italian-design kitchens combined with Montreal's unique character proved to be simply irresistible!
The pure charm of the location is made all the more attractive by the building's many practical features. A multi-floor underground parking lot can accommodate over thirty cars. In addition, superior soundproofing, central air conditioning, two elevators, automatic sprinklers, garbage chutes, and sophisticated security systems will make life easier for condo owners, who can enjoy peace of mind as they relax in the comfort, tranquility, and sensuous luxury of their homes.
The building's many windows provide abundant natural lighting in every apartment and offer spectacular views of the surrounding cityscape—day and night. Depending on the apartment, occupants can admire the ever-changing St. Lawrence River, the city's most striking architectural marvels, or the historic landmarks of Old Montreal.
With solid experience in commercial building construction, promoters Daniel Revah and Patrick Levy took up the challenge of breathing new life into a nearly hundred-year-old building, this time in the residential sector. In cooperation with architect Karl Fischer, renowned for the quality and originality of his plans in New York City, Sydney, San Antonio, Toronto, and Montreal, they succeeded in reinventing this space with an ultramodern flair while preserving the architecture and very essence of the eleven-story building. "We immediately spotted the building's potential. Old Montreal has really picked up steam. It is now a thriving neighborhood 12 months a year and has become a highly popular residential area. For us, this project is the culmination of a dream, and we are making every effort to make the building a unique and special place," noted spokesman Patrick Levy.
Condos range from 810 sq. ft. to 1,610 sq. ft. and will sell for between $225,000 and $1,200,000. The five penthouse apartments feature a mezzanine and fireplace. Reasonably priced household appliances are available upon request. Visits of the model apartment can be arranged. There's no doubt: This is a must-see address!